Dwight's Historic Sites
---
In the early 1850s two railroad surveyors, James Spencer and T.C. Myer set up camp in a clear prairie in Central Illinois. Within a few years, the railroad was built and when the first Alton and Sangamon (later the Chicago and Alton) train came through from Chicago to St. Louis in 1854. At the time, there were just two small wood buildings and a water tank. The station was given the name, West New York. Richard P. Morgan, another survey engineer, was asked to give the place a name, he suggested Dwight, after Henry Dwight of New York who had heavily invested into the building of the railroad.

During this period, railroad stops typically evolved into towns, and Dwight was no different. Morgan built the first mill in 1859 and donated the land for the Presbyterian Church. David McWilliams built a store in the downtown area, and was a success from it's beginning. He would go on to help build the first school in town and opened the town's first bank, which would go on to become the Bank of Dwight and now the Bank of Pontiac.

In 1879, Dr. Leslie Keeley opened the Keeley Institute, which was the first medical institution to treat alcoholism as a disease. By the turn of the century, Keeley Institutes were located in nearly every state in the nation and many overseas.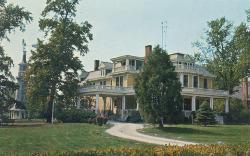 Keeley died in 1900, and his partner and friend, John R. Oughton, became president of the corporation. Oughton renovated a building that was used as the Keeley Club House and adding to it, made it his home, known as "The Manse."
The Keeley Institute continued to operate until 1966 when hospitals began to deal with the disease of alcoholism. Today the building houses the Fox Developmental Center.
Route 66 made its way through the county, and Dwight was in its path. Dwight's downtown was by-passed, and the towns businesses migrated their way to the Mother Road.

Built in 1933 was Ambler's Texaco Station, which later became The Marathon Oil Station serviced travelers until 1998. The building has been renovated and is now a visitor's and information center.
The C&A Railroad Depot, built in 1891, served for a time as the Village Hall, and is now home to the

Dwight

Historical Society and the Dwight Economic Alliance.

Placed on the National Register of Historic Places in 1982, the Depot is one of only a few stations between Chicago & St. Louis featuring architectural design of the 1890's. Designed by Henry Ives Cobb, it was originally the Alton Railroad Depot.
Across the street from the Depot, sits the First National Bank of Dwight, designed by Architect

Frank Lloyd Wright in 1905.

This building is on the National Register of Historic Places.
The Pioneer Gothic Church and The Oughton Estates and grounds are also
on the National Register of Historic Places.